Select your holiday type below
Call our experts now

Dublin 01 2311868
Cork (021) 2066064
Belfast (028) 71878851
---
We know how important your holiday is to you and want to make sure you get the most from your cruise, so why not extend your trip and book a night or two pre or post cruise?
Take in the sights before you board your cruise, we'll look after your transfers to and from port to make things extra easy for you!
From the beautiful architecture and the tapas bars in Barcelona to the sights and sounds, and of course the shopping, in New York City, we have a hotel to suit you and your budget.
This is a great way to celebrate a special birthday or anniversary with that special someone! So call us today and let us make this a holiday to remember.
Italian Mediterranean Cruise from Barcelona - 7 night
MSC Orchestra
Launched on 14 May 2007, the spectacular MSC Orchestra is one of MSC Cruises' newest ships. The second of the 'Musica-class' line of cruise ships, MSC Orchestra offers the perfect blend of design, comfort and safety. Airy open spaces and MSC Cruises' signature Italian style make MSC Orchestra a stylish pioneer for future cruise ship projects and designs.

Onboard the luxury MSC Orchestra cruise ship you will be enthralled by the wide spectrum of entertainment facilities - jog on a dedicated track, indulge in a rejuvenating Turkish bath, dine at the Shanghai Chinese restaurant, relax in the exotic animal-print Savannah Bar, sumptuous Purple Bar or enjoy Hollywood-style glamour in the chic Zaffiro Bar. Try your luck at the Palm Beach Casino, dance the night away in the disco or take in a show at the Covent Garden Theatre, with a programme packed with entertaining shows with music.

MSC Orchestra boasts a total of 16 decks, with sauna and whirlpool facilities, a wide choice of restaurants and cosy family pizzerias. Kids can go wild in the Jungle Adventure playroom whilst teens will quickly feel at home in the Teen's Club.
On Board Highlights
MSC Orchestra offers 2 main restaurants, L'Ibiscus and Villa Borghese. Each one boasts an excellent selection of dishes made from the high quality ingredients and the maximum amount of flair and care. Like the freshly baked bread every product is just as fresh as we can get it. Dishes range from traditional and tasty Mediterranean fare, to the most refined international recipes. For a quick lunch choose La Piazzetta buffet restaurant offering top notch Italian and international cuisine.
You might not have expected to find a superb chinese restaurant on a Med', Baltic or fjords cruise but that's exactly what the Shanhai is: a top quality chinese restaurant, servering everything from spicy Szechuan cuisine to the sweeter Cantonese fare of Southern China. If you prefer a hearty snack, then the mid-morning Dim Sum is simply sensational and as good as you'll find in any Chinatown from San Francisco to Soho.
MSC Cruises' uncompromising dedication to its passengers is nowhere more evident than the unrivalled entertainment programmes and facilities offered on board MSC Orchestra, with its state-of-the-art 1240 seat Covent Garden Theatre, futuristic R32 Disco and Palm Beach Casino with over 600 square metres of casino gaming and Virtual Games, video games room.

Whats Included ?
Included in the cost of your cruise, is all entertainment for adults and children, all food from the main dining rooms and the buffet area. Gratuities are added to your account at the end of your cruise.
Cabins
Inside
Outside
Balcony
Suites
General Information
Price includes cruise only on a full board basis in an inside stateroom, Government taxes & fees. Gratuities can be pre-paid for your cruise or can be added to your final bill.

Cruising is new to some, so here's some helpful information:

The dress code on cruise ships is as dressy or as relaxed as you want it to be. Evening dining requires smart casual. Casual is welcomed in all buffet areas at all times. Most cruises will have at least one formal night on board, suits and dresses are the clothing of choice, why not join in the fun and get your photo taken!

Remember when making purchases, all cruise ships use a cashless system whilst on board, on check in at port you will receive your own individual identity card which will also double as your room key and payment card. At the end of your cruise you can settle your bill at reception with cash or credit card.

Gratuities or tipping can be paid at booking or at disembarkation , the cost per day depends on the cruise company, your sales agent will be happy to advise you when booking.

It is your responsibility to obtain visas before your holiday, if you go ashore on an excursion with your cruise company, e.g. St Petersburg, a visa will be obtained on your behalf, if you choose to go independently you will be responsible for your own visa.

In order to enter the USA, every person travelling, including children, must have a visa, unless they qualify for the Visa Waiver Program (VWP). Please visit https://esta.cbp.dhs.gov/esta for more information.

Make the most of your holiday by adding a night or two pre or post cruise. From time to time cruise companies will offer extra deals on cabin upgrades and drinks packages, ask our expert cruise team for a quote!
Departure Dates
Itinerary
| Day | Cruise Ports | Arrive | Depart |
| --- | --- | --- | --- |
| Day 1 | Barcelona, Spain | 00.00 | 18.00 |
| Day 2 | Ajaccio, Corsica | 12.00 | 19.00 |
| Day 3 | Civitavecchia, Rome, Italy | 08.00 | 19.00 |
| Day 4 | La Spezia, Italy | 07.00 | 19.00 |
| Day 5 | Genoa, Italy | 08.00 | 18.00 |
| Day 6 | Cannes, France | 08.00 | 16.00 |
| Day 7 | Palma de Mallorca, Spain | 14.00 | 23.59 |
| Day 8 | Palma de Mallorca, Spain | 00.01 | 00.30 |
| Day 9 | Barcelona, Spain | 09.30 | 00.00 |
Cruise Special Offers
24 May 2017 - 7 nights, Full Board

Early Summer Fly Cruise: Price includes return flights from Dublin, 7 nights cruise based on 2 sharing an Inside cabin, Bella Dining Package, full board, all taxes and fees.

Gratuities payable on board. Transfers are extra.

04 October 2017 - 7 nights, Full Board

Early Autumn Fly Cruise Offer: Price includes return flights from Dublin, 7 nights cruise based on 2 sharing a BALCONY CABIN, FANTASTICA DINING PACKAGE, all entertainment, all taxes and fees.

Gratuities payable locally. Transfers are extra.
Terms & Conditions apply.
Price subject to availability and/or change.
Call Us: 01 2311868
Video provided by 3rd party and complete accuracy can not be guaranteed
Route Map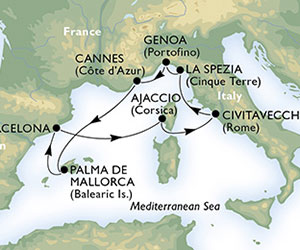 Call our experts now

Dublin 01 2311868
Cork (021) 2066064
Belfast (028) 71878851
---