Neilson is more than just a flight, a beach and a bed. They really believe it's about having an experience worth remembering. Whether you want to master windsurfing, perfect your tennis serve, or just escape to the sun, Neilson are only happy when you are.
Beautiful unspoilt locations, sunshine, clear warm water, fantastic children's clubs and all of your favourite activities. Whether your priority is to spend maximum time on the water or on the bikes, enjoy the perfect family holiday or just relax and be pampered, they have something to suit you.
Sunway are general Sales Agents for Neilson.
So much included it will blow your flip flops off!

EXCLUSIVE resorts in outstanding locations including Greece, Spain, Sardinia & Croatia

FREE watersports including sailing, windsurfing, waterskiing, wakeboarding & kayaking

FREE sailing & windsurfing tuition and RYA training courses

WORLD CLASS equipment and highly qualified instructors

FREE action-packed, stimulating kids' clubs for children of all ages

FREE tennis, mountain biking & fitness classes

DELICIOUS healthy cuisine on a Club Board Basis at all Beach Clubs including daily breakfast, lunch & four evening meals
To book or for more information please call 01 2366800 or e-mail: neilson@sunway.ie
Beachclubs | Dining | Inclusive kids' clubs | What's Included | Our Accommodation
Beachclub
Sunway are agents for Neilson beachclub holidays which are packed to the rafters with inclusive water sports and shore-based activities and are exclusively for Neilson guests. Beachfront locations, tempting pools and a great range of accommodation choices in Spain, Sardinia, Italy, Croatia and Greece come as standard.
You'll have quality equipment, a huge range of classes and friendly experts on-hand to help you try something new or improve your skills.
Combine all this with locally-sourced food and top-class kids' clubs, and it's easy to understand why over half of our beachclub guests come back year after year. The hardest thing to do on a Neilson holiday is to decide what to do next.
Dining
Club board menus mean you won't go hungry. Kick-start each day with an inclusive breakfast buffet bursting at the seams with fresh fruit, freshly baked bread, cheese, omelettes and pancakes. You'll be hungry after a morning on the bikes or on the water (or even just chilling around the pool), so lunch is included every day. When you're ready pop in for a quick snack or sit down with friends to enjoy a full meal from the extensive buffet of salads, grilled meats, fresh fish and local dishes. On each of the inclusive evenings (of which there are four), sit down in the restaurant to enjoy dishes from around the Mediterranean. If you're staying at the brand-new Mar Menor Beachclub in Spain, you'll get an extra evening meal, giving you five inclusive evening meals per week If you're staying at Cosmos Beachclub you'll be on a bed and breakfast board basis.
Inclusive kids' clubs
There is an inclusive kids' clubs for all ages from two, right up to 17 years old. The Starfish crèche for youngest guests (up to 23 months) is available for a supplement of £300 per week and means even the tiny ones don't miss out on the fun. All of the kids' clubs are run by qualified and experienced staff who'll keep your young ones busy with water sports, nature walks, treasure trails, arts and crafts, pool games and hundreds of other exciting things to do.
Hot Shots (8-13 years old)
For kids who want to take it to the next level, Neilson have fully qualified Royal Yachting Association (RYA) instructors to help them master windsurfing and dinghy sailing. The RYA Youth Sailing Awards are available to those who'd like to improve their skills. The children will be in the sea and pool as much as possible, with activities including kayaking and SUP'ing. There is one member of the team to every six children.
Club hours - six days a week from 9.30 am-5.30 pm Meals - lunch is supervised, evening meals with a parent or guardian. (Lunch time supervision cannot be guaranteed at Cosmos Beachclub). Evenings - we look after the Hot Shots from 7-11 pm on five evenings (two evenings at Cosmos Beachclub).
Cost - £195 per week
What's included in a Neilson Holiday?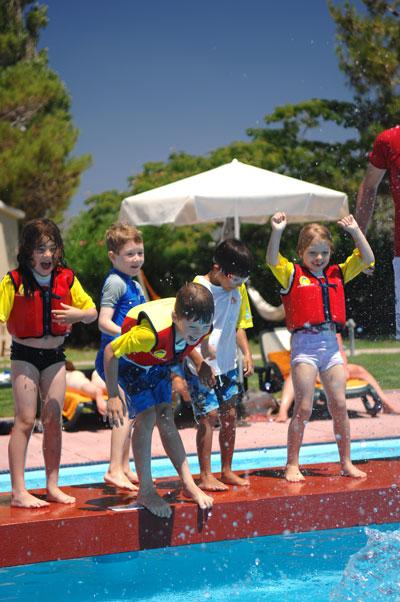 Beautiful unspoilt locations, sunshine, clear warm water, fantastic children's clubs, adult-only week options, and all of your favourite and new activities included.
Over two decades Neilson have perfected their adventure holidays on the Mediterranean Sea and specialist activity Beachclubs in Greece; all with expert teams, resort staff, a range of children's clubs for 2-14 year olds, meals including local delicacies, and al fresco dining.
All of these features are included in the cost of a Neilson holiday:
Flights & Transfers: Flights from numerous UK regional and London airports. Flights from Ireland to London are available at an additional cost.
Accommodation: All of their hotels and resorts are selected primarily for their charm, range of facilities, locations, and suitability for activities.
Meal options: Flexible Beachclub options such as bed & breakfast, Club Board which includes daily breakfast & lunch, and four evening meals.
Children's clubs*: All children aged 4 months to 17 years will find a club to suit them at one of seven children's clubs.
Evening childcare: The Beach Clubs provide free evening care for 5-12 year olds twice a week
Sailing & windsurfing tuition: Expert tuition from a passionate, experienced, and friendly team is always included in the price of your Neilson holiday.
Waterskiing & wakeboarding: Waterskiing and wakeboarding is included free of charge in all of the Beach Clubs--no matter how many goes you have.
Tennis tuition: Perfect your forehand or service game with free tuition from a team of tennis professionals at all Beach Clubs.
Royal Yachting Association (RYA) Training Courses: Depending on your resort, all courses from RYA level 1 through to Performance Sailing and Advanced Windsurfing are included in the price of your holiday.
All of Neilson's air inclusive package holidays and flights are ATOL protected.
How We Travel
All of the Beachclub holidays to Greece, Croatia, Spain, Sardinia & Italy, include flights from the UK and coach transfers direct to your chosen accommodation. Flights from Ireland to London are available at an additional cost.
Transfer only or private taxi transfers: Sometimes when people organise their own flights they still choose to join the scheduled transfers (flight times permitting), or we can organise a private taxi transfer. If you would like to do this, just give us a call and we can confirm details and prices. This option must be booked at least two weeks before the departure date for your holiday.
Flights: Neilson offer flights from UK airports, and Sunway will be happy to add on flight from Ireland for an additional cost.
Greece
Retreat Beachclub, Sivota
Cosmos Beachclub, Vassilki
Vounaki Beachclub, Paleros
Messini Beachclub, Analipsi
Buca Beachclub, Analipsi ( Adult Only)
Portomyrina Palace Beachclub, Lemnos
Aeolian Village Beachclub, Lesvos
Spain
Mar Menor, Los Urritias, Murcia
Sardinia
Baia dei Mori Beachclub, Budoni
Croatia
Alana Beachclub, Paklenica
Italy
Airone Beachclub,Sibari
Our Accommodation
Neilson set themselves very high standards for your holiday accommodation. Each hotel is chosen primarily for its charm, range of facilities, location and suitability for activities.
The one thing, which unites all of the clubs, is the same high level of service, staff, activities and childcare.
Some of the resorts are more suitable than others for customers with special needs. If you or any of your family or friends have any concerns please call us to discuss your individual requirements and we will advise you accordingly.
Late check out: Sometimes flights depart late in the afternoon or evening, when this is the case we are able to offer the chance to book a room for late check out. This service is available for a small supplement and can be booked in resort, subject to availability.
Log Off: Feel the sun on your face, the wind in your hair or the fresh mountain air on your nose. Turn your mobile phone off (it does have an off button). Leave the laptop closed and the e-mails unread and just enjoy the moment. On the other hand, we also understand that some of you simply can't - that's why all of the Beachplus Clubs now have a Wi-Fi connection so you can log-on whilst you recharge your batteries.
To book or for more information on our Activity Holidays please call us on 01 2366800 or e-mail: neilson@sunway.ie