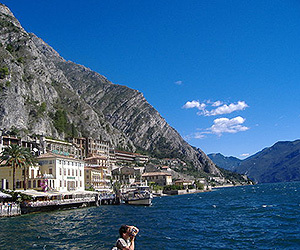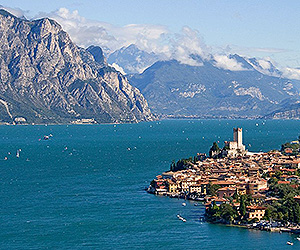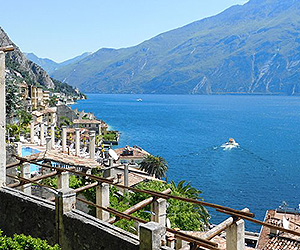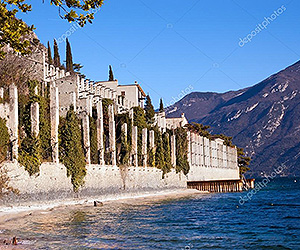 Limone Lake Garda Holidays
Limone is a popular tourist resort on the shore of Lake Garda, in north-east Italy. It is situated on the most dramatic section of Lake Garda, and the harbour area is like a postcard; it is certainly one of the most photogenic resorts on the lake. It lies at the mountainous northern end of Lake Garda, and rocky cliffs rise up behind the waterfront town centre. Limone is a picturesque place to stay, and a good base for exploring and enjoying the lake, although summer holiday-makers should be prepared for crowds in the little historic lanes.

Limone is the Italian word for 'lemon' and this shore of Lake Garda was once renowned for growing lemons and other citrus fruits. Limone's name, however, is no more than a happy chance, since it is said to be much older than the lemon groves, and to derive from a Latin word meaning 'boundary'. The town is still close to a boundary: between Italian regions. Lake Garda is shared by three Italian regions; Limone is part of the province of Brescia, in the Lombardy region. It is known as Limone sul Garda, to distinguish it from another Limone (in Piemonte).

The heart of the old town is the little harbour, the Porto Vecchio ('Old Port'). From here, narrow lanes lined with tourist shops wind along the shore and up the slopes behind. There are pleasant and picturesque waterfront terraces, and plenty of places to eat and drink while admiring lake views. Following paths to the north of the harbour you leave the hustle and bustle behind, and pass scattered hotels, peaceful cafe terraces, abandoned lemon groves and little swimming beaches. In the other direction is the more modern part of Limone: a wide waterfront promenade, car park and many more hotel developments. This end of the town sprawls over the area where the mountains are set back further from the lake: here olive groves are interspersed with hotels and swimming pools.
Little Harbour, Limone
As well as pottering around the waterfront and lanes, and relaxing on cafe terraces, Limone also offers the chance for sunbathing or swimming. There are a few small pebbly beaches north of the town centre, including a private 'beach' establishment on terraces, with sunbeds. South of the centre is a much larger, more open stretch of long stony 'beach'. The regular boat services are a good way to explore Lake Garda, and tourists staying in Limone should definitely pay a visit to picturesque Malcesine, on the far shore.

There are various short walks at low levels around Limone, and an information sheet from the tourist information office is a good place to start. There are also more serious walks in the mountains behind town. The Gruppo Alpino di Limone organise free guided walks from Limone between June and September.