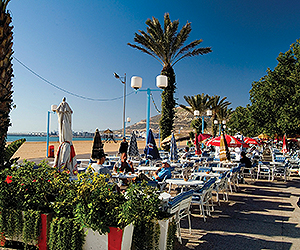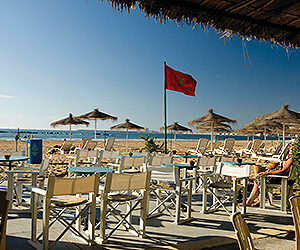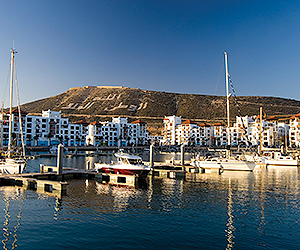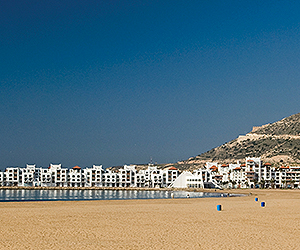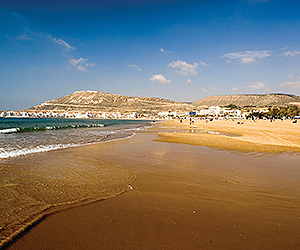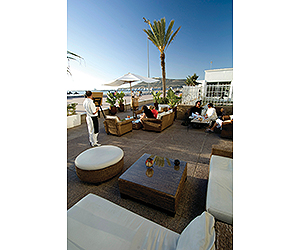 Agadir Morocco Holidays
Agadir Holidays
Agadir is one of Morocco's most popular and inspiring destinations. It is among the best short-haul sun resorts, and for a reason. Agadir gives you the best of Morocco – stunning sights, an unrivalled beach, and plenty of activities.
To make it even better – there are direct flights from Ireland, and only 30-minute-ride from the airport following the flight, make Agadir incredibly accessible and travel-friendly.
Getting around the city itself is no trouble - a local taxi costing only a few euros will take you wherever you wish to go.

Agadir's beach - the sandy crown of the kingdom
One of Agadir's greatest jewels is it's ten kilometres of golden sand beach along the Atlantic. It is perfect all-year-round sun spot. The natural blessings are accompanied by bright cafes, restaurants, and plenty of activities at and around the beach (just be aware of the undercurrent which can be quite strong). If you're in for an lighter vacation, there is a 5.2 kilometre long promenade to take a stroll on, offering a complete panoramic view of the bay.

Kashbah of Agadir
If you're hungry for authentic architecture, you can visit the remains of Agadir's old Kashbah, built in 1541. It could once house 300 people, and dwellings and traces of what was once an imposing fortress can still be made out. Besides the structure itself, the view from the Kasbah is stunning, with even more marvellous sunsets.
Things to see & do in Agadir:
Year round sunshine
Family Friendly resort & accommodation
Lovely beach & Marina area
Duty Free
5 golf courses
Souk el Had
Crocopark over 300 crocodiles
Hamman/massages
Excursions to Marrakech, Essaouira and Tafraoute
Wide range of wonderful restaurants
Surfing in Taghazout only 25km from Agadir
Moroccan delicacies in Agadir
Agadir has a great choice of places to try Morocco's unique cuisine, which is often regarded as one of the best in the world. Almonds, argan oil, couscous, hand-made breads, seafood, meat dishes with a variety of vegetables and spices – this lavish mix of Arabic, Andalusian, Berber and Mediterranean influences will warm your stomach and your soul. Agadir's wide range of cafés and restaurants are not based only on traditional specialties. You can also find great pizzerias, fish bars and other types of cosmopolitan restaurants. Besides food, some of the places also offer live entertainment.

Agadir's golfing oases
Agadir takes pride in its four exquisite, 18-hole golf courses, and one 9-hole course.
Here's a basic overview of Agadir's green golfing oasis:
The Golf du Soleil has a green fee for 36 hole golfing from €65.00, and that includes a bus ride from a range of hotels.
The Golf Les Dunes has green fees for 27 holes of €70.00. A (return) taxi ride to this course will cost approximately €20.00.
The Golf De L'Ocean with green fees from €70.00 for 27 holes and a courtesy bus service from some hotel receptions.
Royal Golf Course is a smaller court with 9 holes. It's fees for 9 holes start at €20.00.
Tazegzout Bay Golf Course with green fees from €60.00 for 18 holes with a shuttle bus from Agadir approximately 35 minutes away or a (return) taxi will cost from €35.00.
Also, count that caddy hire is not compulsory in all golf courses. Buggy & club renting are also available.

Agadir's art of trading
One of Agadir's best known attractions are its markets – the souks. These colourful places are teeming with life and goods, and promise a radically different experience of 'shopping'. Some traders are also craftsmen, making or perfecting their precious items on the spot. Old jewellery crafts practiced right there in front of you are one of the things you should not miss out.

Other things to do while in Agadir
There are many excursion options. At a price from €11.00, you can get an intriguing City Secrets half-day tour, which is a good way to start off your friendship with Agadir.
Agadir also makes a good starting point for excursions which stretch outside of the city. You could visit the impressive Sousse valley area, with its walled city and lively souks awaiting to be discovered on a half-day Taroudant tour. Othello's Essaouira offers you a striking architectural display, and a chance to meet the port's Artisan Quarter, with intimate galleries and traditional carpentry workshops.
Marrakech is another major Moroccan tourist attraction. A full day and night excursion to Marrakech promises an unforgettable memory of this imperial city. In this almost time-travel experience you will witness the magnificent Djemaa el-Fnaa, the Marrakech's main square at the medina (old city) quarter. All the exoticism of Morocco is contained within this square and its market – magicians, dancers, animal displays, a glass of fresh orange juice. As the evening sets in, the number of people peaks. And if you get overwhelmed by this souk magic, you can relax in one of many cosy cafes in the narrow side streets.
If you just can't get enough of Marrakech, there is an Imperial Marrakech option – a two day trip which will provide you with a full Marrakech experience at a more relaxed pace. This includes a unique experience of having dinner with an option of spending the night at a Riad – a traditional Moroccan home.
More possible tour options can be provided to you by your local representative. As unbelievable as this may sound – all this is just fraction of what Agadir and Morocco have to offer. This place has many faces and all of them are extraordinary.