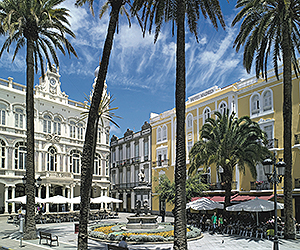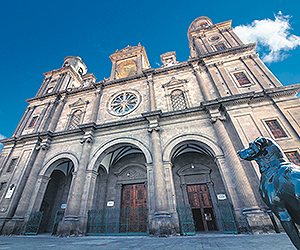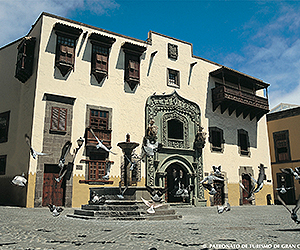 Las Palmas Gran Canaria, Canaries Holidays
Las Palmas is a capital of Gran Canaria, one of Spain's Canary Islands off north western Africa. A major cruise-ship port, the city is known for duty-free shopping and for its sandy beaches. At Playa de Las Canteras, a coral barrier lines the beach and shelters swimmers. The annual Las Palmas de Gran Canaria carnival on January 26th to 18th February 2018 brings together flamboyantly costumed performers, music and dancing. Las Palmas de Gran Canaria is Spain's 9th-largest city with lots of squares and piazzas. Most of them are filled with busy bars and atmospheric restaurants for you to enjoy. A fine example is Plaza Cairasco, which houses one of the city's most fascinating establishments, the Hotel Madrid.

Another area worth checking out is La Iselta, which is one of the most historic areas in the city. Here you'll be able to meet the descendants of those who stood up to the naval attack of the fearsome pirate, Sir Francis Drake. This admiral, who is a hero in England was considered more of a villain in Spanish waters. Playa de las Canteras is the biggest beach at Las Palmas with safe clean water and lifeguards. You can enjoy swimming or exercising. The Paseo de Las Canteras promenade which is situated along this premier beach and best enjoyed with an ice cream purchased from one of the many parlours.The residents of Las Palmas de Gran Canaria enjoy the second-best climate in the world. Understandably, they like to take advantage of this and one of the most popular ways of doing so is to cycle, skate or simply walk along the Avenida Marítima. The Avenida Marítima connects the pretty fishing village of San Cristóbal, arguably the best place to eat in Las Palmas de Gran Canaria (especially if you're a fish and seafood enthusiast), with Playa de Alcaravaneras. Locals also enjoy taking a paseo (stroll) through Triana – the city's main pedestrianised shopping area. So there is lots to do and see including a hop on hop off bus tour or fascinating walking tour of this great city.